We are now open for the season.  Our hours of operation during the month of April are
Monday –  Friday 11:00am – 7:30pm
Saturday and Sundays 10:30am – 7:30pm
Sunday October 25th, will be our last day of the season.  On that day, there will be a sale on all remaining stock to clear out our inventory so we can start fresh next spring. Remember to bring a cooler so you can stock up for the winter.
https://fr-ca.facebook.com/LaCigaleIceCream or call us at 819-827-6060.
Please note that during the spring, summer and fall of 2015, Chelsea village will be living through some construction. For easiest access to La Cigale and the Gatineau Park please take exit 13 and turn left to entre the village as shown in the map below.  You may also consult the muncipal website for up to date information on road closures at http://www.chelsea.ca/?q=node/1202&lg=en
We are located at 14 Scott Street
Chelsea, Quebec, Canada  J9B 1B5
(819) 827-6060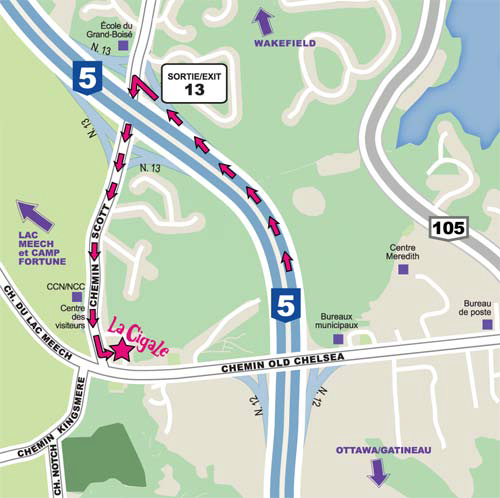 Welcome to La Cigale.
We love Ice cream and we think you will love our ice cream too once you try any one of our 24 homemade flavours.
Whether you are the more adventuresome type who would like to try one of our original flavour creations (such as Gingersnap and Chai), or you prefer one of the classics, we think we have something for everyone. Choose to try any one of them in a homemade waffle cone or in a scrumptious sundae, or take some home in a tub to share.
We are nestled in the beautiful town of Old Chelsea, Quebec, only 15 minutes from downtown Ottawa, Ontario, directly across from the Gatineau Park's visitors centre.  In summer months we invite you to relax in our perennial flower garden with your ice cream and enjoy the fresh country air. We accept dogs in our yard and we also have a dog dish and a hook for your leash in front of our store.
Hope to see you soon!